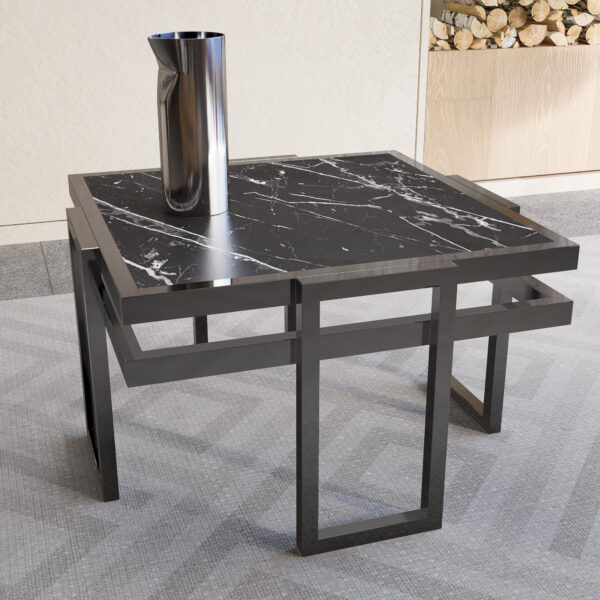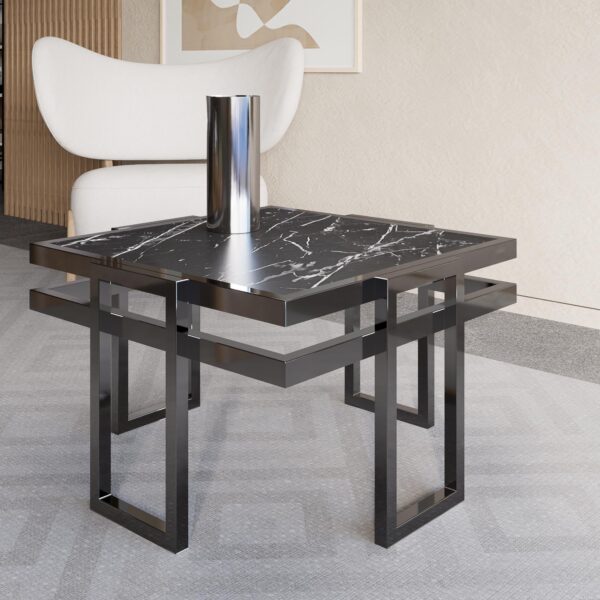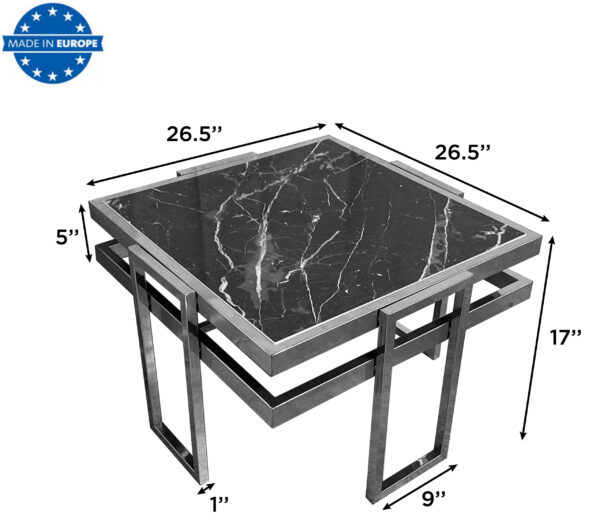 Square Side Faux Marble Table
$140.00
The Square Side Faux Marble Table – a sleek and versatile piece designed to elevate your living spaces. With a captivating faux marble top in black and metallic gray, this 26.5″ x 17″ table complements any room. Its sturdy metallic gray base adds durability and a modern touch. Use it as an end table, nightstand, or coffee table to add elegance and functionality to your living room, balcony, or office. Redefine your space with this timeless yet contemporary statement piece.
Stylish and Functional Addition: Elevate the style and functionality of your living room, balcony, or office space with the Casamudo Square Side Faux Marble Table. This versatile piece serves as an end table, nightstand, or coffee table, offering both style and convenience in one.
Sophisticated Design: Featuring a faux marble tabletop with a mesmerizing pattern, this table exudes elegance and sophistication. The black and metallic gray color combination adds a contemporary touch, making it a perfect fit for modern and classic interiors alike. Ample Surface Area: With generous dimensions of 26.5″ x 17″, this table provides ample surface area to accommodate your belongings. Whether it's a stack of books, a cup of coffee, or a decorative item, you'll have plenty of space to display and organize your essentials.
Versatile Placement Options: The Casamudo Square Side Faux Marble Table seamlessly blends into various settings. Place it in your living room as a stylish end table, utilize it as a functional nightstand in your bedroom, or even use it as a convenient coffee table in your office or study.
Timeless Appeal: The timeless design of this table ensures that it will remain a stylish addition to your space for years to come. Its classic yet contemporary aesthetic effortlessly complements a wide range of interior decor styles, allowing for effortless integration into your existing setup.
Built to Last: Crafted with durability in mind, this table is constructed from high-quality materials. The sturdy frame and solid construction ensure stability and longevity, making it a reliable and long-lasting furniture piece in your home.